Okay, all you intrepid supporters. This is an S-O-S! The Lakota Eco-dome project needs gas money for local transportation. They have all the necessary materials, they have volunteers, they have perfect weather, but now, at the end of a successful season, they have put every nickel toward the building, and their gas tanks are running on empty. Click HERE to donate emergency funding.

In Altai, Svetlana Katynova keeps on keepin' on, creating project after project to sustain the sacred Altai culture. I attach her most recent design for a cultural center, the second such design I know of for large-scale investor-driven development, in addition to her designs for the cultural centers in Tyungur, which are being developed in a more organic way through donations and small grants. Click HERE to donate.

Read a nice overview about Altai Republic.

Please share this information widely!
With great joy and gratitude!!

Altai is more than a place—it is a sacred way of being.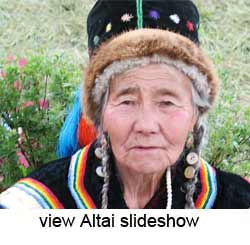 Altai Mir University serves as an global bridge for ancient wisdom and power of Altai.
For further information, see