English | Español
CREST13 - Epuyen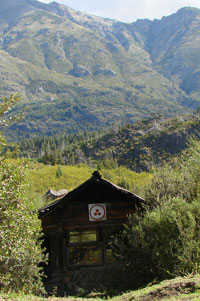 Updated 30/11/2011
location
Argentina - Epuyen (Patagonia)
Contacts
Yellow Resonant Star, Flaviah Motta - lamat228@yahoo.com.ar and jardinpazmundial@yahoo.com.ar
Language
Spanish, English, Portuguese, English, Catalan and Italian
Website
Site Structure

kitchen, bathroom with hot water, Study room and library ,nine little cabins for staff (which can be used by visitors depending on the time of the year),tipi, geodesic dome for meditation (waiting for cover for winter).
Land Size
2 hectareas plus 600 of area natural with river, lake and mountain.
Number of permanent kin residing
8 adults plus 5 children (and some kin from staff who are in other gardens or missions).
Details for visitors
Any person is welcome t to share and study with us for minimum 13 day period participating in the house rhythm ,meditations, garden works and practices living from the garden, experimenting the time frequency and the information of 13 moon. After 13 days a new agreements can be discussed to extend periods etc..
We don't charge visitors to be here. We ask the visitor to make a donation according to the number of days considering food expenses in the same proportion of your expenses outside. This way we create abundance for all that comes from all parts. A basic donation is like 20 pesos per day for example. But we are open to other purposes and donations. Bring tents, sleeping bag, extra plastic to cover tent in case of rain, candles and anything you may need for these 13 days. Also you are asked to not bring electronics (mobiles, camera etc.), processed food, chemicals or drugs.
Needs
Solar panels, notebook to work on graphic preparation of books and syncronaries etc. Car for horses (for transportation), barn to house the chickens, sleeping bags for low temperatures, mattresses.
Daily Practices
In the morning Meditation of natural mind, complete Cubication (visualization of psi bank, pulsars, construction of cubes, sending magnets, awaking bolontiku, 7 caves of tollan, solar mantras), Sunset Praying Circle. Organization by earth family and root races.
General Overview and comments
The World Peace garden Epuyen, is an living experiment of application of the Law of Time as social organization, a training place for future life styles.
More than a community, we are kin in transformation, learning to live in a form cleared from social conditionings of 12:60 and learning to be new humans in harmony with nature ,planting food and practicing all tools of Syncronotron and praying.
Events
Photos